After years of trying to make fresh pumpkin puree work in a pie (always seems to taste "squash"-y), I am resigned to the fact that the canned pumpkin pie filling fits the gastronomical tastes of my family and myself best!
That being said, I love making this pie "my own," and here's how!
What I Used:
1 nine inch unbaked pie crust prepared in pie pan
2 cups (15 oz can) pumpkin puree
3/4 tsp cinnamon
1/2 tsp ground nutmeg
1/4 tsp ground ginger
1/4 tsp ground cloves
1 can (14 oz) sweetened condensed milk
2 eggs
(1)  Preheat oven to 425.  Combine the spices and pumpkin in a bowl.
(2)  In a separate bowl, mildly beat eggs.  Add eggs and sweetened condensed milk to pumpkin mixture.  Mix thoroughly.
Make Ahead:  At this point, the filling may be immediately placed in an airtight container and frozen for up to 1 month.  When you're ready to bake, thoroughly defrost in refrigerator and then whisk vigorously before continuing to (3).
(3)  Pour filling into pie crust.
(4)  At this point, you can either pinch the crust for a fluted rim (see the end of this post) or create a decorative rim.
Since I already had some leaves leftover from my apple pie, I decided to use them.  Before baking, brush decorative rim with egg (I dyed mine with food gel).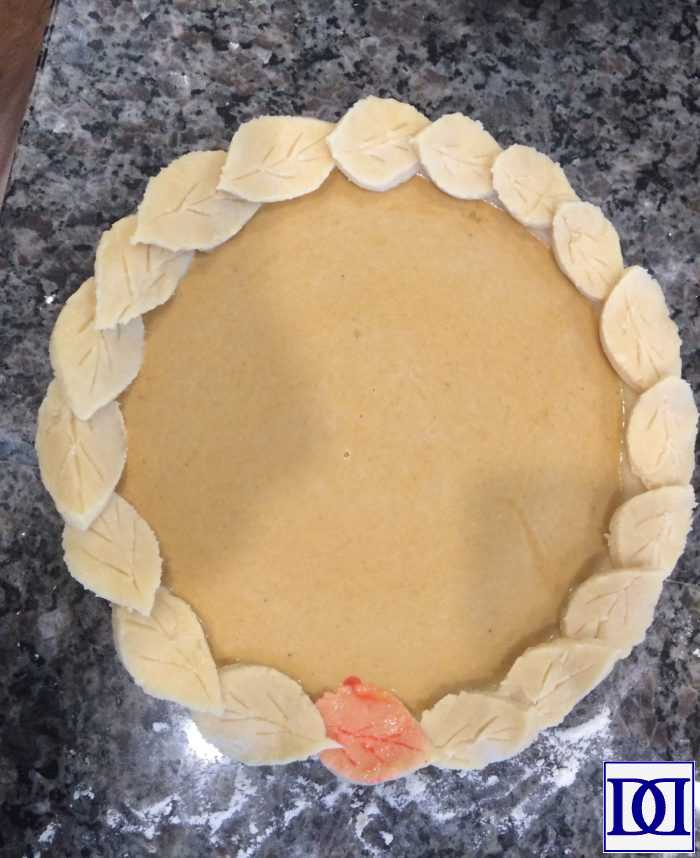 Troubleshoot:  If you get some egg in your filling while brushing, merely swirl the filling around to incorporate the egg.
(5)  Bake at 425 for 15 minutes.  Reduce oven temperature to 350 and bake pie for an additional 35-40 minutes.  The pie is done when a toothpick can be inserted cleanly in the middle of the pie.
For more Thanksgiving Recipes, please check out this post on our Evolving Thanksgiving!
Save
Save